About Speechcraft
Speechcraft is a short course teaching public speaking skills, which will help to build self-confidence. Our Speechcraft courses are conducted in one of the meeting rooms at Club on East, 7 East Parade Sutherland.
Speechcraft
The next Speechcraft Course starts Wednesday 24th July 2019.
Click here to register for the August/September course.
View the proposed Speechcraft Schedule for 2019/2020.
What it's all about
Designed to develop public speaking skills
Friendly, positive non-threatening environment
Fellow students will be there for similar reasons as you
Fellow students will be feeling the same emotions as you
Develop at your own pace
You will not be "graded"
Receive immediate positive and helpful feedback
Most assisting Toastmasters have attended Speechcraft themselves
Develop your own individual style
Gain a huge boost to your self-confidence
Miranda Toastmasters Speechcraft Courses
We have conducted multiple Speechcraft courses consecutively since February 1998
Most assisting Toastmasters have previously been a Speechcraft student
Speechcraft Orientation (1 hour only) is provided to help you prepare for session one
Speechcraft is conducted Wednesday nights for eight consecutive weeks
Sessions start 7.00pm and finish 10.00pm
Maximum 12 students each course, ideal for greatest learning
Equal student participation each session (very important)
Receive educational presentations and demonstration speeches for the following weeks project
Six speaking projects during the course, plus one exercise using PowerPoint (or alternatively Research Your Topic)
Primary Subjects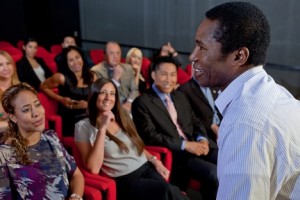 Impromptu speaking - dealing with the unexpected question
Prepared speeches - researching, preparing, rehearsing and delivering a short speech
Proposing a Toast - learn how to deliver a Toast that is worthy, with style
Introducing a speaker - learn the correct way to do it
Prepared Speeches - first speech 2 to 3 minutes, the rest 3 to 5 minutes
Evaluation - become an effective and helpful evaluator of others
Public Speaking etiquette - know how to present yourself, as well as your presentation
Some comments from previous Speechcraft graduates:
I can thoroughly recommend the Speechcraft course at Miranda Toastmasters. I did not know what to expect but I was relieved to find my fellow students were in a similar position to me – all with concerns about public speaking.
The Toastmasters and my peers were all very supportive and made the experience very enjoyable. The structure of the course enables you to incorporate your new learned skills into public speaking and also into your daily interactions. It certainly met my requirements and exceeded them. The Toastmasters are all volunteers with a passion to help you improve yourself and I can't thank them enough. - Greig A

The Speechcraft course helped me overcome those common public speaking nerves and understand how to channel that energy into providing an enjoyable speaking experience. Leaving the course with a brand new skill set, great friends and a new found outlook on public speaking. This course transformed my confidence in many ways, even those I didn't expect. I would encourage any one, of any speaking competence level to take this course. You won't regret it! - Katelyn R

I have challenged myself to jump into this part of life - "public speaking" - which I have had a fear of all my life.... even though it has been one hell of a challenge to me, I am so glad I have joined and I now have the confidence to speak at my daughter's wedding. - Angie B

I appreciate all your help and support over the course. I have learned so much, so quickly, just as you promised at the orientation meeting. I, and my family have benefited so much. - Eric R

The guidance along the way each week has been enormous and greatly appreciated. It is a wonderful environment to learn and achieve our own personal goals. - Dorothy L

Week 1 - My first speech was read from prepared notes, hiding behind a lectern. Week 8 – My speech was delivered without notes, without a lectern and delivered with voice projection and animation. What a transition!! Thank you Toastmasters, my journey has just begun! - Andy H
Need further information or you prefer to talk to someone with a friendly voice about Speechcraft?
Please contact Mike Smith
mobile: 0411 173 290
email: speechcraft@miranda-toastmasters.org.au